Article and content from S&P Global market intelligence website.

Trade finance funds grow as investors seek 'recession-proof' asset class
A growing number of trade finance funds are emerging to meet demand from institutional investors seeking attractive returns with low correlation to stocks or bonds.
Banks, once dominant in trade finance, have been withdrawing from this space due to Basel III capital reserve requirements and other new regulations. Instead, lenders are focusing on larger corporate clients and are reducing exposure to trade finance, which consists of the financial instruments that companies use to facilitate international trade, such as letters of credit, performance guarantees, supply chain finance and import/export loans.
As banks retreat, there has been a worsening of the trade finance gap, measured in rejected trade finance applications, which is now between $1.4 trillion and $1.6 trillion, equal to 8% to 10% of global merchandise trade, according to the Asian Development Bank's estimates. The funding shortfall is particularly acute for small and medium-sized enterprises.
« Banks are looking at the best credit and are really out of the business of financing SMEs, » said Marc de Hennin, head of business development at RiverRock European Capital Partners LLP, a U.K.-based investment management company. The minimum size for a transaction with the likes of Commerzbank AG, Citigroup Inc. and BNP Paribas SA is $50 million, he said.
Founded in 2009, RiverRock recently expanded into trade finance, joining a small but growing number of alternative financiers seeing opportunities in a cash-hungry market.
« There's more and more interest in this asset class and now more than ever because of the geopolitical and macroeconomic situation, » de Hennin said. « Investors are looking for low volatility, non-correlated assets with the traditional market, and yield. By chance, trade finance ticks all the boxes. »
Trade finance has also proven resilient to geopolitical turbulence. An analysis of 15 active trade finance-focused hedge funds found an average return of 4.73% throughout 2018, despite U.S.-China trade tensions, and a 5.22% gain in the first eight months of 2019, according to research firm Eurekahedge.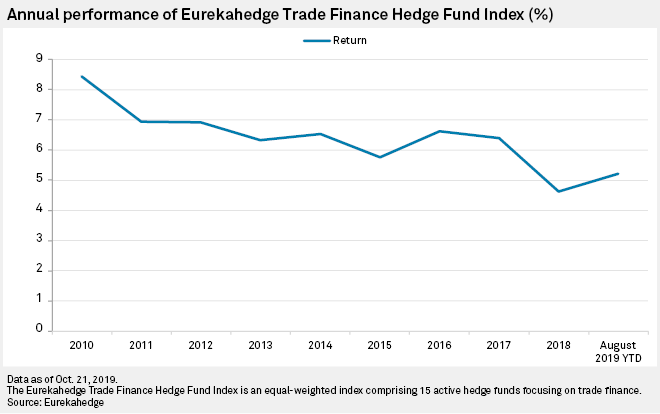 You will be redirected in another website